At Manseikaku, we work daily toward making
our three Hokkaido hot spring resorts
— Toyako, Noboribetsu, and Jozankei —
into delightful hotel experiences for our customers.
Greetings from the Director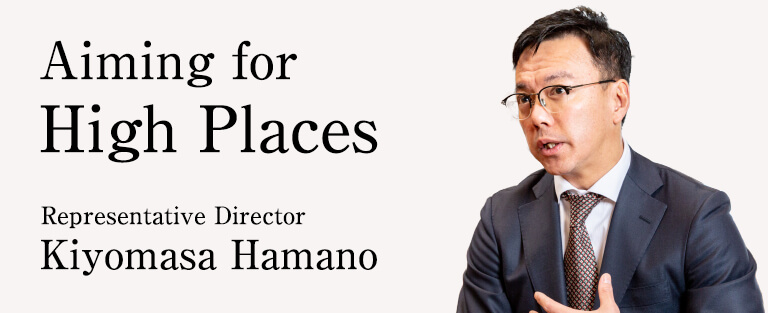 To the tourism industry, which is crucial in supporting Japan's economy:
Facing low birthrates, a declining population, intensifying global economic competition, and the rise of emerging economies, the Japanese economy is in a very difficult situation.
For that reason, elements of Japanese culture are now registered in the Intangible Cultural Heritage list.
We can say that we, the tourism industry, carry the growing responsibility of shouldering Japan's proud "Spirit of Hospitality," amounting to not just Japanese cuisine, but also subcultures like anime and manga which are born from the Japanese spirituality and way of thinking.
From competition to cooperation, spreading Hokkaido ALL's charm
With the increasing travel demand in the Asian regions, and the 2020 Tokyo Olympics being held in Japan, the number of visiting tourists will continue to grow. Transitioning from individual competition to group cooperation in order to meet global sightseeing standards, we will spread Hokkaido's charm, both inside and outside of the country. Hokkaido's tourism is entering such a time.
We continue to aim for new heights with everyone
Manseikaku is here today thanks to the support of our customers, business partners, and everyone from the area. And we've always been cheered on by Hokkaido's soil and blessings which raised us. From here onward, we, Manseikaku, will continue to thank our customers, follow our predecessors, respect Hokkaido's soil, cooperate with our allies involved in tourism, and further devote ourselves as a driving force in developing Hokkaido's tourism.
Company Philosophy/Vision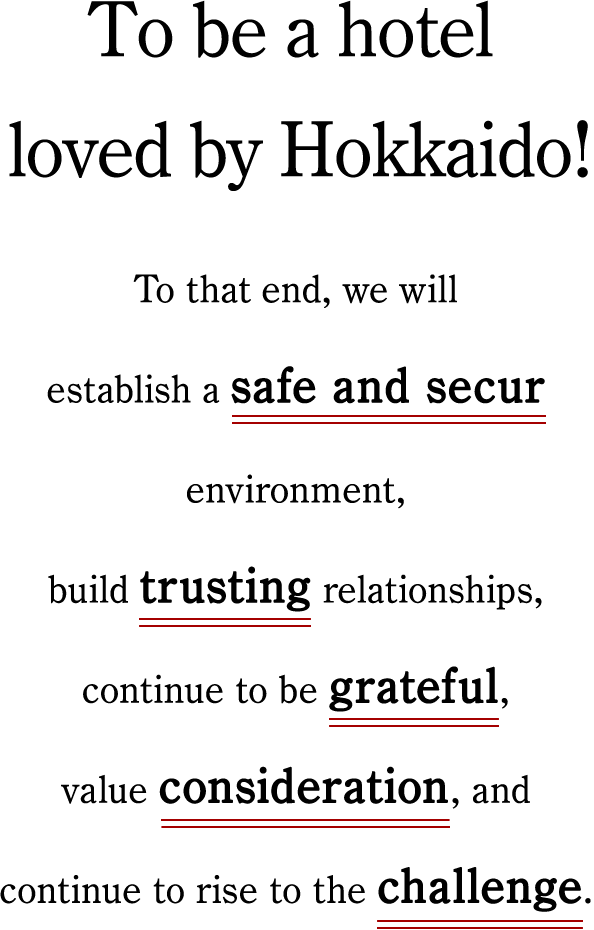 History
Existing pillars since the time of foundation

Toyako Manseikaku was called "Ryugu Castle" back in the 1960s
June 1941
Started operations for Manseikan
at Toyako Onsen
September 1944
Manseikan established and registered
as Manseikaku Corporation
August 1951
Added new eastern building to Manseikaku
October 1959
Established the Sapporo information office
May 1963
Constructed the new Hotel Manseikaku,
formerly known as Manseikaku
May 1968
Constructed the new Noboribetsu Onsen
Hotel Manseikaku
April 1978
Changed Hotel Manseikaku's name to
Toyako Manseikaku
June 1978
Added central building to Toyako Manseikaku
April 1986
Noboribetsu Onsen Hotel Manseikaku renovated and renamed to Noboribetsu Oyado Manseikaku
March 1989
Complete remodeling of Hotel Manseikaku
April 1992
Noboribetsu Oyado Manseikaku relocated and renamed to Noboribetsu Manseikaku
April 1997
Started operations for Jozankei Manseikaku Hotel Milione
April 2008
Renamed to Toyako Manseikaku Hotel Lakeside Terrace and remodeled the Toyako Manseikaku Hotel Lakeside Terrace central building's guest rooms from Japanese to Western-style
May 2010
Remodeled the Toyako Manseikaku Hotel Lakeside Terrace western building's guest rooms from Japanese to Western-style
April 2014
Partially remodeled Jozankei Manseikaku Hotel Milione's B1F Buffet Restaurant
May 2015
Completely remodeled Jozankei Manseikaku Hotel Milione's first floor and opened the lounge with bakery, Birch Terrace - Bakery and Cafe
June 2016
Completely remodeled Jozankei Manseikaku Hotel Milione's B1F Buffet Restaurant
April 2017
Completely remodeled Toyako Manseikaku Hotel Lakeside Terrace western building's 1F Buffet Restaurant
April 2018
Completely remodeled Toyako Manseikaku Hotel Lakeside Terrace western building's 8F public bath, Hoshi no Yu
May 2019
Completely remodeled Toyako Manseikaku Hotel Lakeside Terrace central building's B1F public bath, Tsuki no Yu
July 2020
Remodeled Toyako Manseikaku Hotel Lakeside Terrace eastern building
August 2020
Partially remodeled Toyako Manseikaku Hotel Lakeside Terrace central building's B1F and 1F
Opened the Library&Cafe"BLOSSOM COFFEE", Foot Spa"Chamasuyu" and Children's playground
April 2021
Partially remodeled Noboribetsu Manseikaku
Remodeled after relocating the 1F Lobby floor, Souvenir shop and Children's playground
Opened the 3F Buffet restaurant「ROWAN FOOD HALL」
Remodeled the 4F public bath "Tsuki no yu" and "Hoshi no yu" with new steam sauna and changing room
October 2021
Partially remodeled Jozankei Manseikaku Hotel Milione
Renewed western styled rooms with private hot spring, sauna on the 11~13F
Renewed restaurant Kuksa on the 2F, for the new established guest rooms only
January 2022
Renewed Jozankei Manseikaku Hotel Milione's sauna in pablic bath "BISEN" into self-operated steam sauna
Company Overview
Trade name:
Manseikaku Corporation
Present location:
21 Toyako Onsen,Toyako-cho,
Abuta-gun,Hokkaido
Representative:
Representative Director Hamano Kiyomasa
Capital Stock:
30 million yen
Founding:
June 1941
Incorporation:
September 1944
Office:

Toyako Manseikaku Hotel Lakeside Terrace

 21 Toyako Onsen,
Toyako-cho, Abuta-gun,


 

Hokkaido


Noboribetsu Manseikaku

 21 Noboribetsu Onsen-cho,

Noboribetsu-shi,




 

Hokkaido


Jozankei Manseikaku Hotel Milione

 3 Jozankei Onsen Higashi, Minami-ku,


 

Sapporo-shi, Hokkaido


Sapporo office

 Odori Fuji Building 10F, 11-4 Odorinishi


 

Chuo-ku,
Sapporo-shi, Hokkaido
Business Description:
Japanese hot springs inn industry, restaurant management, cafeteria/shop management, hotel/inn management guidance/advisory services, management outsourcing company, travel industry rooted in the travel industry laws, All businesses incidental to the above
Number of staff:
333 (Male: 180, Female: 153)
Number of company workers: 233 (Male: 156/Female: 77) *As of February 2022,
Inn industry Registration Card:
Hokkaido governor Inn industry Registration #2-675
TV CM August 2021-broadcast
Hotel introduction video