A shower of light pours through the glass-walled lobby.
We will welcome you with cordial hospitality.
Being a traditional spa hotel with a 65-year operating history,
we continue to strive to constantly meet the needs of the times.


With serene Japanese-style rooms, spacious Western-style rooms, and Japanese- and Western-style rooms that boast the combined functionality of Japanese-style rooms and Western-style rooms, we have a host of guest rooms that will suit the style of your stay.
All guest rooms are air-conditioned and thus maintain comfortable temperatures irrespective of the season.
In addition, all guest rooms are stocked with feather mattresses with careful consideration to ensure that guests can take a good rest.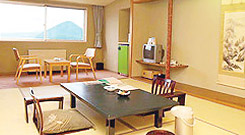 Japanese-style room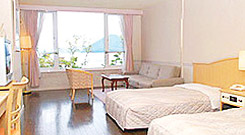 Western-style room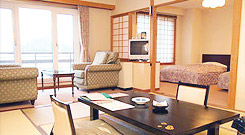 Japanese- and Western-style room
We also have the Loyal Suites with atmospheric furnishings and amenities.
Maisonette-type Western-style rooms and special Japanese-style rooms with a tearoom are also available.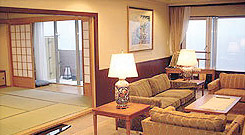 Loyal Suite Maisonette 1F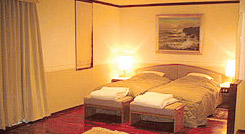 Loyal Suite Maisonette 2F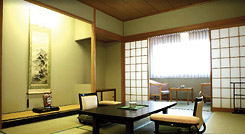 Special Japanese-style room